Bernadette 様
ご利用車種:マッシュⅢ
ご利用期間:6/17(土)~6/22(木) 5泊6日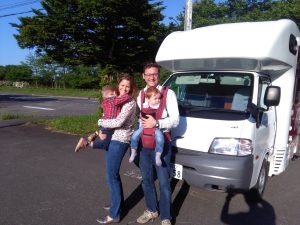 Q How was the trip in Hokkaido with Camper van ?
Would you recommend your friends?
We had a wonderful time in Hokkaido in the Rentacan Campervan.
Everything was perfectly organized befor we arrived, and were greatful for the airport pickup. The campervan was spotlessly clean and everything worked perfectly. We will highly recommend Hokkaido and Rentacan to our friends.
Q How was our service?  Are you satisfied?
We were very satisfied with the service, – very polite, efficient and understanding of our situation(with 2 young children)
Q Are there any service we are not providing that you would like to see us provide?
If here was an autocamping ground map available that would be great – we had a hard time finding auto camp ground that had the facilities we needed .
---