Janica Chua 様
ご利用車種:レガードⅡ
ご利用期間:10/23(月)~10/26(木) 3泊4日
Q How was the trip in Hokkaido with Camper van ?
Would you recommend your friends?
Yes. recommended to do so  during summer & early
autumn.
Q How was our service?  Are you satisfied?
Service was good. assisted us in finding a compsite
(helped us to make reservations via phone).
Q Are there any service we are not providing that you would like to see us provide?
Maybe provide english- speaking assistance (especially
when providing instructions for use of campervan).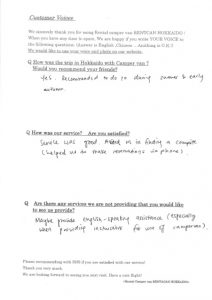 ---